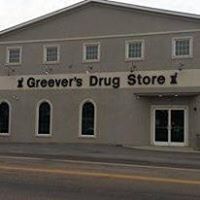 Greever's Drug Store, Inc. originated as Chilhowie Drug Store in the early 1900's. It was located on Main Street under the direction of a Mr. Hickman, then succeeded by Dr. Thomas McKee and Mr. Joe Seckler. Later it was purchased by Mr. J.L. Sanders who left it to his son, Dr. Ben Sanders. Mr. Ernest Greever served as an apprentice under Dr. Ben Sanders and acquired the store from him. The name was changed to Greever's Drug Store, Inc. at the acquisition.
John Foster and his family moved to Chilhowie from eastern Virginia in the early 1960's with the intent to work with Ernest Greever and eventually purchase the business. The store moved to its current location in the mid 1960's with John Foster as the owner and pharmacist.
Brent Foster, son, started working with his father as a pharmacist in 1982 and became the pharmacist in charge when John retired. Zac Foster, Brent's son, is currently attending Gatton School of Pharmacy in Johnson City, TN and, hopefully, will continue the family tradition with Greever's Drug Store, Inc.
"Providing excellent patient care is the main priority here at Greever's Drug Store."
-Brent Foster